Celebrity Trending 10: Celebrities and Watches
Are you looking to hire a celebrity speaker for your next conference or event in 2019 or 2020? Well, Celebrity Speakers Bureau has got you covered. Below is an outlined list of the 10 trending celebrities at the moment who are blowing up as the biggest names on the speaking circuit. Whether you are looking for one of the hottest new entrepreneurs in the market, or an exemplar of an entertainment icon, we've got 'em all listed as a one-stop shop for you to book a celebrity for your next event. Contact Celebrity Speakers Bureau today to hire a top Celebrity Speaker for your next corporate event.
Celebrities and Watches Edition:
Coming off another Oscar worthy performance in the recently released, Once Upon a Time in Hollywood, Leonardo DiCaprio tops the list of celebrities associated with the classiest of accessories. In addition to being one of the biggest A-List celebrities in the world, DiCaprio is a long-time TAG Heuer ambassador. The celebrity speaker has done multiple campaigns with the top watch brand and has sported the fashionable accessory on his countless red carpet trips. In addition to his fashion savvy, DiCaprio is one of the most well known celebrity activists on the speaking circuit. The Leonardo DiCaprio Foundation constantly works to raise awareness of climate change and create a brighter future that goes beyond just movies.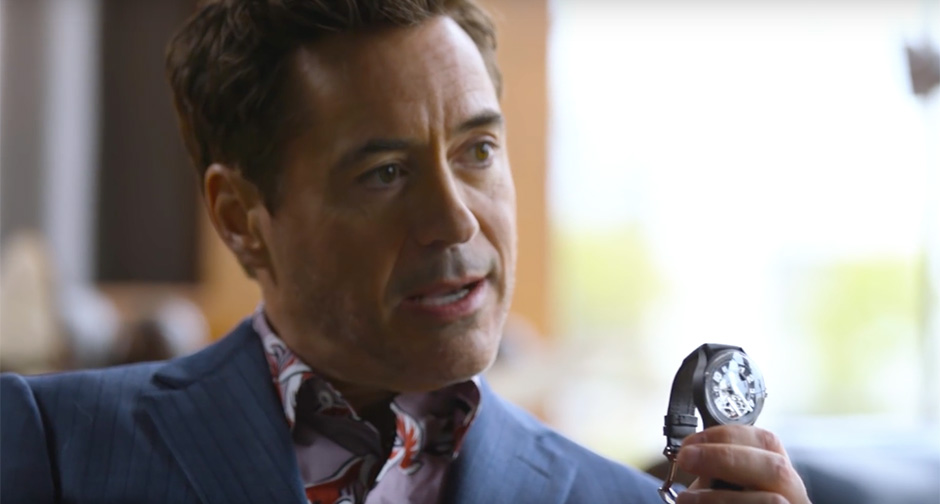 Robert Downey Jr. is another A-Lister who loves watches. One of the top paid actors in each of the last 5 years, the Iron Man and Avengers megastar dabbles in only the most high class luxury watches. His collection was showcased in a GQ story in 2016. From Omega to Jaeger-LeCoultre to Patek Phillips Nautilus the actor has them all. Rivaling the status of his on-screen persona Tony Stark, Downey Jr. enjoys being the most fashionable celebrity in Hollywood. In fact, Downey Jr. doesn't just look like Stark, he acts like him too. In the innovative Amazon Re: Mars conference this June, the celebrity speaker announced an initiative launching in April 2020 to substantially clean up the planet with the help of robotics and nanotechnology within the next ten years called The Footprint Coalition.
The list continues to showcase the hottest stars in Hollywood with Brad Pitt. Continuing to bring box office success to every movie he touches, Pitt also dabbles in watch collecting. Along with his Once Upon a Time in Hollywood c0-star Leonardo DiCaprio, Pitt was also a TAG Heuer ambassador. Among his collection is a classic Patek Phiippe Nautilus, a President Rolex, GMT, Daytona, Cartier and A. Lange & Söhne. Pitt's in the midst of a massive 2019, with his already acclaimed Quentin Tarentino collaboration in theaters now, and an upcoming science fiction epic titled Ad Astra releasing later in 2019.
The former Wolverine star and celebrity speaker Hugh Jackman has remained a force in Hollywood and the watch space for years. Jackman became a global ambassador for watch brand Montblanc in 2014. Before inking the exclusive deal, he dabbled with brands like Girard-Perregaux. Jackman even traveled to the watch factory in Hamburg to immerse himself in the brand. Jackman joined Montblanc CEO Nicolas Baretzki this June to launch their newly designed StarWalker watch in line with the 50th anniversary of the moon landing at a gala in Houston. In March 2019, it was announced Jackman would join Australian apparel company R.M. Williams as a brand ambassador as well.
Outside of absolutely dominating the sports world, Serena Williams sets some time aside from her busy life as an athlete and mother to be a watch connoisseur. The tennis icon became an ambassador for watch brand Audemars Piguet in 2013. From sporting her exclusive watches on the tennis court to the Met Gala, Williams' global reach was the perfect fit for the massive watch brand. This is one of her many sponsorship deals and business ventures outside of the court. In addition, Williams has covered almost every space in the marketplace, from watches to her own clothing line. She even has a stake in the Miami Dolphins and is a published writer.
6. Sylvester Stallone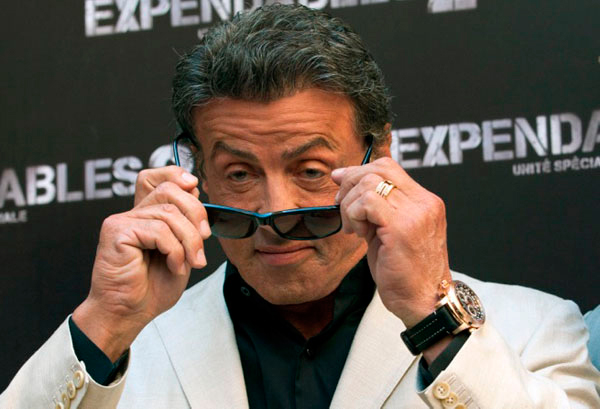 Sylvester Stallone has been in the spotlight for decades. His massive popularity and commercial success made him an attractive option for watch brand Panerai. Sporting the signature massive watches, Stallone is often seen with his Luminor Regatta 1950 Rattrapante. Panerai released a limited edition "Slytech" watch in the 90s and Stallone has been an unofficial brand ambassador ever since. In addition, Stallone sports the always popular Rolex watches as well. With new movies from Stallone coming out such as Rambo 5: Last Blood, we're sure to be seeing some more watches in his movies and more.
7. Daniel Craig
It's no surprise that James Bond is closely associated with watches. The titular star of the long running movie series Daniel Craig has some fashion cachet off screen as well. When he's not playing the dashing 007, Craig loves to sport OMEGA watches. Craig's history with the classic series has increased his affinity for the fancy timepieces from the most vintage pieces to the flashiest Rolex designs. Look forward to seeing Craig reprise his role as Bond one last time in James Bond 25 opposite Oscar Winner Rami Malek and his new role in fall movie Knives Out.
8. Chris Evans
Much like Iron Man, Captain America likes his watches too. Blockbuster star of Avengers: Endgame Chris Evans is a brand ambassador for IWC. The brand showcases some of the nicest watches on the market including the Portuguese, Ingenieur, and Pilot. Moving on from his famous role this year, Evans will focus on ventures similar to this going forward as well as multiple upcoming film projects including Red Sea Diving Resort and Knives Out with fellow watch expert and celebrity speaker Daniel Craig.
Another athlete featured on this list is Formula One World Champion Lewis Hamilton. Lewis is known for his bold fashion choices, but non can dispute the sleek IWC watches he sports when he's not on the racetrack. With his cars are sponsored by IWC, Hamilton is able to dazzle with their most eye-catching collections to fit his ambitious fashion sense. In addition to his IWC connection, Hamilton is sponsored by major brands including Puma, Bose and Monster Energy. He's also a devoted philanthropist through work with UNICEF, Education Africa and more.
10. Ryan Reynolds
With undeniable charm and the most endearing sense of humor in Hollywood, Ryan Reynolds is gold to any brand looking to increase awareness and sales. In addition to being owner and face of Aviation Gin as well as featuring in commercials for brands such as Toon Blast, Reynolds also dabbles in watches. The fashionable Deadpool star joined Piaget in 2016 to headline their new Polo S watch. The celebrity speaker has upcoming projects including an ABC game show titled Don't announced in April.
This Celebrity Trending 10 Speakers list is just the start! There are countless inspiring and motivational celebrity speakers making the rounds on the speaking circuit. Celebrity Speakers Bureau is your #1 source to hire celebrity speakers. We will work with you to determine the best fit for your event audience and theme while working to secure your celebrity speaker at the lowest possible fee. We work on behalf of you, the client, not the speaker, with your best interests in mind. Contact the team at Celebrity Speakers Bureau via email at booking@celebrityspeakersbureau.com to hire celebrity speakers for your next event.