Celebrity Trending 10: Olympic Swimmers
Tokyo 2020 is around the corner. As the games move closer and closer, Olympic speakers and endorsers are gaining traction. Here are the top ten trending olympic swimmers heading into next summer. Book them now before it's too late!
1. Nathan Adrian
Adrian is a five-time Olympic gold medalist who formally held the American record in the 50m freestyle event. In January 2019, Adrian was diagnosed with testicular cancer. However, cancer could not keep Adrian out of the water. He competed at the 2019 World Championships in August, winning gold in the 4x100m freestyle relay event. Nathan's success in the pool has led to a lucrative endorsement career, most recently working with Ralph Lauren. As on of the hottest names in swimming, Nathan Adrian is one to watch for next year at the 2020 Olympic Games.
2. Caeleb Dressel
Dressel is a two-time Olympic gold medalist and current holder of the 100m butterfly world record. At the 2019 World Championships, Dressel took home six gold medals, two silver medals, and broke Michael Phelps' ten-year-old record. He is the first American man to win 50m butterfly event. After a successful World Championships, Dressel was named the male swimmer of the meet, a title he also won at the 2017 World Championships. Caeleb is signed on to swim for Speedo.
3. Michael Andrew
Having turned pro at age 14, Andrew was only 15 when he became the 2016 world champion in the 100m individual medley. Andrew is known for training in a non-traditional way. As opposed to being affiliated with a club, he is coached by his father in their backyard pool. Turning pro at such a young age enabled Michael to build an impressive endorsement portfolio. As early as age 14 Michael partnered with Mutual of Omaha, an insurance company. He most recently signed a multi-year deal with Adidas Swim.
4. Katie Ledecky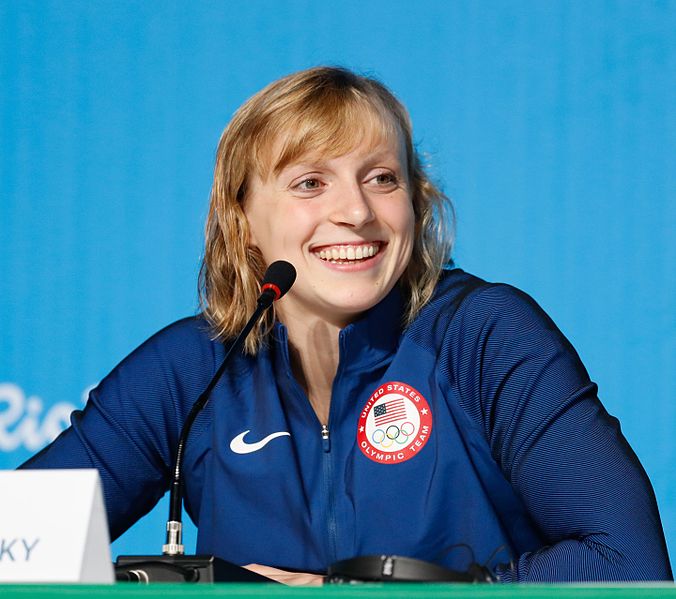 Ledecky is a five-time Olympic gold medalist and 15-time world champion. She is the current world record holder in the women's 400m, 800m, and 1500m freestyle races. She also holds the records for the fastest women's 500yd, 1000yd, 1650yd freestyle events. Ledecky's international debut was at the 2012 Olympic games at age 15. At the 2019 World Championships, Ledecky took home three medals, but had to withdraw early from competition due to a stomach virus. Katie is widely recognized as one of the best swimmers in the world. Turning pro in 2018 after her collegiate career at Stanford has allowed her to build her professional portfolio, signing with swimwear brand TYR.
5. Regan Smith
Smith currently holds the world record in the 100m and 200m backstroke and is part of the world record holding USA women's 4 x 100 medley relay. At the 2019 World Championships, Smith took home two gold medals. Regan is just 17 years old. Moving forward she'll have to decide between potential sponsorship deals or maintaining college eligibility. If Regan elects to turn pro, she could soon find herself signing an endorsement deal.
6. Simone Manuel
Manuel is a four-time Olympic medalist, winning gold in the 100m freestyle and 4x100m medley. At the 2016 Olympic games, Manuel became the first African American woman to win an individual Olympic gold in swimming, set an Olympic record, and set an American record. After a three-year colligate career at Stanford University, Manuel turned professional in 2018. At the 2019 World Championships, Manuel took gold in the 50m and 100m freestyle events, becoming the first American woman to sweep the events. Simone signed an endorsement deal with Nike in 2018, allowing her to continue to grow her brand expanding her social justice initiatives with help from the sport brand.
7. Lilly King
King, a two-time Olympic gold medalist, is the current world record holder in the 50m and 100m breaststroke. King gained recognition both in and out of the water for her friendly, but fiery and unapologetic competitive spirit during the 2016 Rio games. At the 2019 World Championships, King took home the gold in the 100m breaststroke. Like Katie Ledecky, Lilly King is sponsored by TYR.
8. Ryan Murphy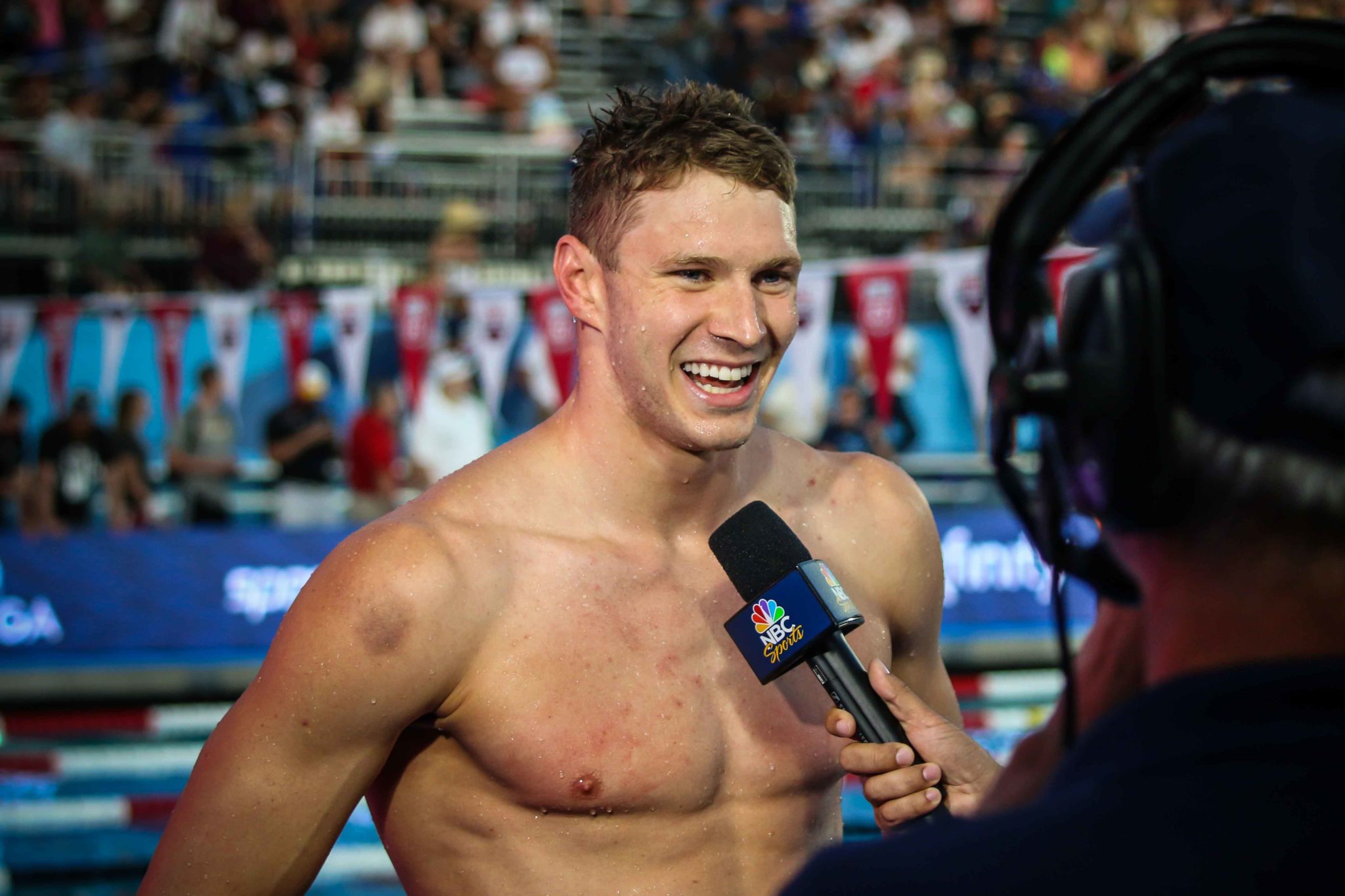 Murphy is a three-time Olympic gold medalist and world-record holder in the men's 100m backstroke. Murphy secured two silver medals at the 2019 World Championships. Despite a lackluster World Championships, he is positioned to make a strong comeback for the Olympic games. Ryan's success an turn to a professional career in 2017 have enabled him to join team Speedo, earning an endorsement deal from the well known swimwear brand.
9. Zach Apple
Apple, a relative newcomer to the world of swimming, didn't hit the water until 16 years old. The now 22-year-old, debuted at the 2017 National Championships, edging out big names such as Nathan Adrian and Caeleb Dressel. At the 2019 World Championships, Apple took home two gold and one silver medal. Zach's poised to compete for a spot on the Olympic team.
10. Kelsi Dahlia
Dahlia, a 2016 Olympic champion, is known for her specialization in butterfly and freestyle. At the 2019 World Championships, Dahlia was part of the world-record setting women's 4×100 medley relay that included Regan Smith, Lilly King, and Simone Manuel. In addition to her career as a pro swimmer, Kelsi serves as a swim coach.
This Celebrity Trending 10 Speakers list is just the start! There are countless inspiring and motivational celebrity speakers making the rounds on the speaking circuit. Celebrity Speakers Bureau is your #1 source to hire celebrity speakers. We will work with you to determine the best fit for your event audience and theme while working to secure your celebrity speaker at the lowest possible fee. We work on behalf of you, the client, not the speaker, with your best interests in mind. Contact the team at Celebrity Speakers Bureau via email at booking@celebrityspeakersbureau.com to hire celebrity speakers for your next event.